GREEN
QUIET
EFFICIENT
TaxiBot® allows dispatching aircraft with its jet engines turned off SAS' Mission is to promote Zero Ground Emission solutions.

Taxiing contributes to 37% of the total aircraft emissions at airport. Smart Airport Systems is deploying TaxiBot® and its Engine OFF Service

Manufacturing
capability
TaxiBot® is exclusively manufactured by TLD at its plant located in Sorigny, France
TLD is market leader in the supply of Ground Support Equipment (GSE)

Technologies
Unique green and sustainable taxiing system. The only undercarriage aircraft system certified to dispatch commercial flights. TaxiBot® is holding 9 international patents

Environmental
Commitment
We recognize a shared responsibility to protect our planet. As such, reducing our environmental footprint and contributing to the reduction of the environmental footprint of the aviation industry, through our products and services, is one of our key objectives. We are committed to promoting circular economy whenever practical, to using sustainable resources and sourcing responsibility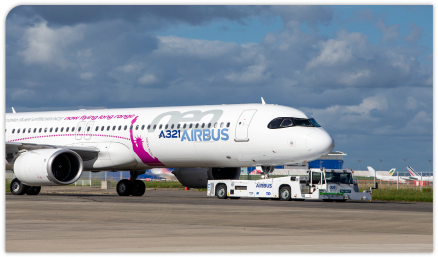 For single-aisle aircraft
The semi-robotic TaxiBot® design has been under development for several years by Israel Aerospace Industries (IAI) & TLD with the support of the major OEM's. The TaxiBot® prototype for single-aisle aircraft was presented in inter-airport-europe 2011 and a TaxiBot® from serial production was on display in inter-airport-europe 2013. The first autonomous roll-out of a TaxiBot® took place at TLD's
Montlouis-sur-Loire factory in February 2012.
In April 2012, the TaxiBot® prototype for narrow-body aircraft was delivered to Chateauroux Airport in Central France to start its test program. The first 3 TaxiBots NB from serial production were delivered to Lufthansa LEOS in Frankfurt International Airport on 7.6.2013, 30.1.2014 and 26.3.2014. They have been operating in Frankfurt with commercial flights of Lufthansa since Nov 2014, following the certification for the B737 CL. In Service Evaluation (ISE) and Routine Operation Evaluation (ROE) in Frankfurt has been completed. Certification for B737 was granted in 2014 for classic and 2016 for NG, and for A320 family in 2017.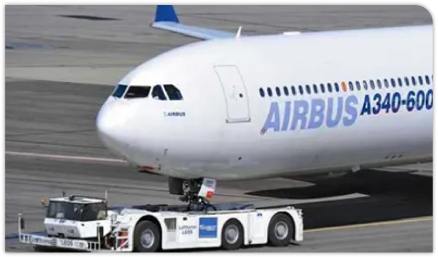 For twin-aisle aircraft
A330 & A350 Family

B777 & B787 Series
During the first quarter of 2010 a TaxiBot® Demonstrator was evaluated by Airbus, towing an A340-600 test airplane in Toulouse, France.
During December 2010 and March 2011 a TaxiBot® Demonstrator was evaluated by Lufthansa in Frankfurt, Germany, towing a B747-400 commercial airplane, in extreme weather conditions (snow / ice & -17°C).
The TaxiBot® Prototype for Wide-Body aircraft started its engines in April 2014.
During July 2014, it has completed assembly and started dynamic driving tests in TLD's new facility in Sorigny, France
The TaxiBot® WB prototype for twin-aisle aircraft was presented in inter-airport-europe 2015.


Major saving in fuel consumptions
Significant reduction of greehouse gases
Significant reduction of noise levels
FOD reduced by 50%
Increased operational efficiency and throughout at airport gates

Pushback operation and procedures performed by TaxiBot® identical to today
Immediate taxiing after pushback eliminating bottlenecks in the gate area
Taxiing with engines stopped. Engines start shortly before take-off with respect to required warm-up time
Pilots is in control at all times (after pushback) using airplane tiller and brakes (transparent to pilot)
Taxiing at 23 knots, same as current airplane speed

No modification in airplane system
No need for APU replacement
No added weight to the airplane
No impact on NLG fatigue life
Pilots fully in control during taxiing
Improved traction on wet or icy surfaces

2011: TaxiBot® Prototype
2014: Boeing 737 CL Certification Taxibot prototype incl B747 &A380
2015: Boeing 737NG certification
2017: Airbus A320 Certification
2021-2022: Tier 4F new version development
2023-2024: 100% electric TaxiBot® NB version development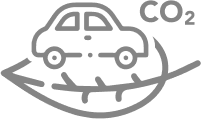 TaxiBot®: 60% to 85% jet engines' CO2eq emission reduction
1 NB TaxiBot® in operation every day keeps 1350 car's CO2 away per year or 2.700 T of  CO2.

Supplemental Type Certificate B737
TaxiBot® A320 Family Certification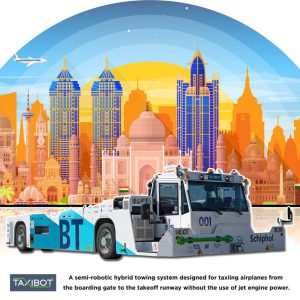 "Air India has partnered with KSU Aviation to launch the use of Smart Airport Systems TaxiBots at Delhi and Bengaluru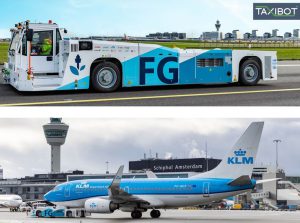 Schiphol and partners have started conducting follow-up sustainable taxiing tests. At the airport, a KLM plane drove from Schiphol-Centre to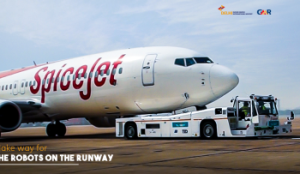 TaxiBot® India accomplished 2000e mission with SpiceJet in New Delhi In Mar 2022, SpiceXpress performed the 2000e mission.


SAS' Mission is to promote, sell, deploy and support innovative solutions delivering operatonal efficiency gains for airport stakeholders.
Our ground solutions generate Major Fuel Savings to Airlines. It reduces Noise and Polluting Emissions at Airports.